Discover more from The Land Desk
Western lands and communities--in context.
Over 2,000 subscribers
L.L. Nunn, Pinheads, and the birth of the Western power grid
An electrifying piece of San Juan Mountain history
On a summer's day in 1881, a 28-year-old named Lucien L. Nunn set off for Telluride from Durango with his friend and business partner Malachi Kinney. They were on foot, carrying everything they owned on their backs, not because they were some kind of early day ultra-athletes, but because they couldn't afford a single horse. 
When Nunn made the 70-mile trek, he had no interest in the relatively new field of electricity, nor could he guess that he'd become one of the parents of that giant machine now known as the Western grid. He just wanted to recoup the losses he and Kinney had suffered when a string of business ventures failed. And after that, the Ohio-born, 28-year-old Nunn wanted to become fabulously rich. 
Nunn had started his career in the Rocky Mountain mining towns by opening a restaurant in Leadville, where he met and hired Kinney. The two partnered on a second eating establishment called the Pacific Grotto (an 1880s version of Casa Bonita, perhaps?). When both restaurants flopped, the pair considered heading for the far warmer climes of Tombstone, Arizona. But when they heard of a brand new community called Durango sprouting in southwestern Colorado, they decided to go there, instead. They started a new partnership with someone named "Hull," reportedly constructed a new building (though I haven't been able to determine where), and went about opening yet another Pacific-themed restaurant in the "wild and woolly" young town, but it failed, too. 
Which is how they ended up hoofing it down Black Bear Pass into Telluride, where they found work shingling roofs and then as mining-shack real estate developers, buying lots, hastily constructing little hovels, and renting them out to the flood of miners pouring into town.
Nunn, standing just five-foot-one, had a stiff bearing, appearing in crisply starched white shirts, a tidy bow tie, and black suit. In photos, his stork-like face glares impetuously at the photographers of the time, mimicking his idol, the slightly taller Napoleon Bonaparte. He came from a family that valued education, and had studied law in Germany during his youth. Seeing a need for legal services in Telluride, he and Kinney opened a law firm that mostly represented mining interests.
His clients included the Gold King mine and mill above Ophir (not to be confused with the Gold King near Silverton that blew out in 2015). By 1889 the mine was in trouble: It had tapped rich veins, but the cost of getting coal up to its lofty perch to fuel the steam engines that powered the mill was eating up the profits and then some (burning wood was not an option since miners had already clear-cut area forests for lumber and firewood). So the Gold King's primary investor, St. Louis financier James Campbell, offered management of the operation to Nunn in the hopes he could solve the issue1. 
The logical solution was to use the force of falling water to power the mill's crushers, stampers, and sorters, as was common at industrial facilities near waterways. But the mill sat at 12,000 feet in elevation, 2,000 feet above the nearest viable stream. Nunn couldn't move the water to the mill. but maybe he could move water-generated power; he brought on his younger brother Paul, an engineer, to help. 
At the time, the young field of electricity was a yeasty one, with European and American inventors racing to develop and improve the technology, and a battle on between what type of current would become the standard. The War of the Currents was no joke. On one side was direct current, or DC — the kind generated by batteries, lightning, and static electricity — which Thomas Edison had used to light up a Manhattan neighborhood in 1882. The DC-crew, led by Edison, was looking to vanquish AC, or alternating current, embodied by Nikola Tesla, the eccentric Croatian-born Serbian genius who had worked for and later been spurned by Edison. Tesla's main backer and ally was George Westinghouse, the engineer who had invented the compressed-air rail brake system.
Edison, in a morbid fit of desperation, played the danger card. He used alternating current to publicly electrocute house pets, sheep, horses, and, finally, a retired circus elephant named Topsy, that, to be fair, had already been sentenced to death for killing three of its trainers. Topsy's demise was immortalized on film, and today you can find a YouTube video of the smoking elephant in all its grainy, demented glory. Yet even fear didn't help Edison's cause. After traveling at useful voltages for about a mile, DC petered out, which was fine for lighting up a few city blocks, but not for powering remote mines. AC, meanwhile, could be "stepped up" to high voltages to push it across long distances, then "stepped down" with transformers for use in home or industry. 
The Nunn brothers opted for alternating current because it would require less copper wiring to move it over a long distance thanks to its "stepping" capabilities. For $50,000 in gold, they hired Westinghouse to build a 3,000-volt generator with a single-phase, 100-horsepower alternator. It was powered by a six-foot Pelton water wheel turned by 320-feet head of water piped from the Lake and Howard Forks of the San Miguel River. The power was then transported about three miles via No. 3 copper wire to an identical generator in the mill, which put the equipment into motion. Power started flowing in 1891. "Everything was extremely simple from water wheels to motors," noted Paul Nunn in an article he wrote years later, "and except for lightning, the plant ran smoothly and steadily thirty days and more without a stop." 
Only at the Land Desk can you find the history of the power grid; commentary on public lands politics; Western housing, water, and climate data; gorgeous photos; and even fiction and crossword puzzles in one place. So consider supporting this unique endeavor by becoming a paid subscriber.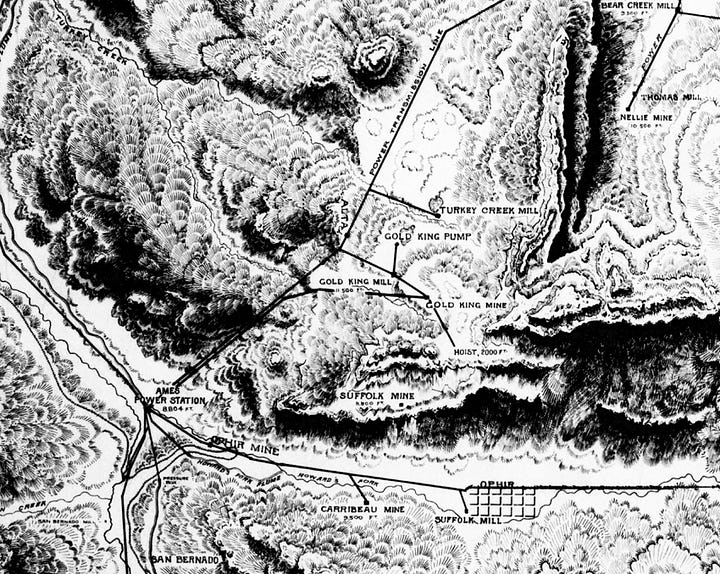 Over the next several years, the Nunns, doing business as Telluride Power Company, wired the San Juan high country and its mines. They added new hydropower plants, with ever more powerful generators, along other stretches of stream, including a 600-hp generator on Bear Creek, and 50-hp and 75-hp generators in Savage Basin. Eventually a second large power house was constructed at Ilium, six miles below Ames, with a 1200-kw revolving-field General Electric generator. In 1896, 10,000-volt underground lines were extended to the Gold King mine and mile-long underground lines reached to Camp Bird, where, according to Paul Nunn's account, "… continuous current at 550 volts from two rotaries and from a 650-ampere-hour storage battery operates three deep-mine hoists of 150 hp."
The mountains around Telluride were lit up, in other words, and criss-crossed with power lines in what may now seem like the unlikeliest places. While lightning was common, surprisingly it caused few major problems, according to Nunn. The big electricity experiment not only had rescued the Gold King, but had also boosted the mining industry — and the industrialization of the San Juan Mountains — in general. In 1901, the U.S. Treasury Department credited the Nunns' Telluride Power Company with making San Miguel County a mining powerhouse.
Lucien Nunn hired young men to keep the operations running smoothly. They all needed training in the nascent field of electricity, however, so the Nunn brothers launched the Telluride Institute to serve the purpose. The students became known as pinheads for the Institute's ritual of placing a pin on a map indicating where each came from.
One of the pinheads' challenges was to match electrical supply with demand, otherwise known as "following the load." If the mill operator wanted to crank up his machinery, for example, the pinheads would up the output from the generator, probably by cranking open valves to increase water pressure. It could be a hazardous occupation. "Manipulation at switchboards or at brushes involved direct handling of 3,000 volts," wrote Paul Nunn. "It was a rule that every attendant should keep one hand in his pocket while working with the other. It is pleasant to record that during these years no loss of life and but few accidents occurred."
When the Nunn brothers wanted to broaden their horizons, they turned to the Wasatch Front in Utah, building power plants and a grid that served Salt Lake City and other communities and mines. In 1904 the Nunns constructed the Olmsted hydroelectric plant in Provo Canyon in Utah. It was a stately facility that looked more like a grand institution's headquarters than a power plant. Indeed, the most imposting structure was the Telluride Institute building, which contained classrooms, laboratories, a library, and living quarters2. By 1905, Telluride Power's grids included six big hydropower stations in Colorado, Utah, and Montana, and close to 1,000 miles of transmission lines.
To be sure, the Nunns weren't alone in electrifying the West. Not long after they had launched the Ames-Gold King project, Edward Stoiber of Silverton installed the 300-kilowatt hydropower plant to send hydroelectricity generated from the Animas River three miles to the Silver Lake mine and mill. It was eventually converted to coal power. The Durango Light and Power Company was born in 1887 to light up the growing city and power its streetcars. And in 1905 the Animas Power and Light Company constructed the Tacoma power plant that uses Cascade Creek's flows — delivered via a byzantine system of flumes and reservoirs — to generate hydroelectricity. Even in Telluride the Nunns had power-supplying rivals with their own grids and wires sometimes literally crossing over Telluride Power's in a tangled jumble in a largely unregulated field.
In 1912 the Utah Power & Light Company, financed by the East Coast-based Electric Bond and Share Corporation, purchased the Telluride Power Company and ousted the Nunns3. Its wholly-owned subsidiary, the Western Colorado Power Company, gobbled up every power company in its region from Durango Gas and Electric and the Telluride Electric Light Company, to the San Juan Water and Power Company. The Associated Press called the resulting corporation a "monster light and power combination." The corporate behemoth swallowed up more independent power companies in the Intermountain West, combining them into an integrated, 224-megawatt, almost exclusively hydroelectric "super power system" that served more than 80,000 customers.
 The era of the vertically-integrated, monopolistic electrical utility had arrived in the West. But to keep the profits pouring in, the companies had to induce demand for their product, which could be challenging in the relatively sparsely populated Western U.S. 
One solution to this capitalistic conundrum was to entice more people to move to the region. In the 1950s, for example, Utah Power and Light waged a campaign to get more businesses and thus more people — customers, that is — to move to its service area. Arizona utilities subsidized sprawl by offering to extend power lines for free or at a low cost, and electric air conditioners made Phoenix habitable, even in July. Utilities thus became a major component of the West's postwar growth machine.
The utilities launched their "Live Better Electrically" campaign, hiring cartoonish mascots like the bulb-headed Reddy Kilowatt, the June Cleaver-esque Miss Electra ("A charming personality you will like!"), and, of course, Ronald Reagan, to push all-electric homes equipped with electric gadgets of every sort, from televisions and air conditioners and stoves, to electric can openers and the El Grilstovo.
Up until the middle of the 20th century, hydropower dominated the Western energy mix. But as demand for electricity increased, the federal government — in cahoots with the coal industry — set about to remake the grid into a fossil-fueled one, with giant coal plants in the Interior sending power across high-voltage lines to the burgeoning urban centers.
Now the grid is evolving yet again as coal plants go dark and solar and wind facilities come online. It is both expanding its reach to enable wind power from giant Wyoming wind farms to be sent to California when the sun goes down, and it's getting broken down into multiple microgrids powered by distributed generation and batteries. It's both a long ways from, and strangely similar to, the pioneer grid a young visionary built in the San Juan Mountains more than a century ago.
SOURCES: Pioneer Work of the Telluride Power Company, by Paul Nunn; LL Nunn, a Memoir, by Stephen Bailey; Fort Lewis College Center for Southwest Studies; History of Utah Power and Light; Power Lines: Phoenix and the Making of the Modern Southwest, by Andrew Needham.
1
By this time, Malachi Kinney had bailed. He would go on to become fabulously wealthy — and flamboyant — as a mining stock broker in Colorado Springs. One account has him visiting Durango and Silverton, bedecked in various jewels, and leaving money all over the place. But by 1903 he was in serious trouble with the law, mostly for embezzlement, and attempted suicide in 1905. The Telluride Journal described him thusly: "He had his peculiar traits and attributes, but was an energetic hustler, with a great big heart." 
2
In 1909, the Telluride Institute was moved to Cornell University and was called Telluride House and then the Telluride Association, which still exists. There's also a Telluride Institute based out of Telluride that is not related.
3
Lucien L. Nunn would leave the utility business to focus on education, founding Deep Springs College near Bishop, California, in 1917.