Lisbon Valley Blues
Images from a sacrifice zone
Announcement: Hey, Durango folks, you're invited to a talk tonight (Tues., Nov. 15) about my book, River of Lost Souls, the Gold King Mine spill, the Animas River, and water issues. Actually, it's going to be more of a conversation with Barb Horn, who knows water and water quality and the Animas River as well as just about anyone. It will be held in the Vallecito Room in the Fort Lewis College student union building. It's FREE, but the organizers would love it if you'd register here. I hope to see you this evening.
My first impulse upon seeing the faded and tattered windsocks as I motored along a southeastern Utah backroad in early November was to look for the landing strip. There was none. Then I saw the distinctive infrastructure of an oil and gas well surrounded by WARNING POISON GAS KEEP OUT signs and I understood: I was in a sacrifice zone.
Oil and gas are always accompanied by a soup of nasty substances, from benzene to toluene to briny water. But the most dangerous of all is hydrogen sulfide, a broad spectrum toxicant. At low concentrations it has a rotten egg odor; at higher concentrations it disables the olfactory senses, allowing it to kill without warning. Thus the windsocks, which enable an oil and gas worker to remain upwind of a well—and potential hydrogen sulfide emissions—when servicing it.
When I got out of my car to look around, I kept an eye on the windsocks, sure, but also tried to keep my distance from the wells and the rusty pipes snaking their way among junipers and piñons and over sandstone and earth. It wasn't easy because the infrastructure was everywhere.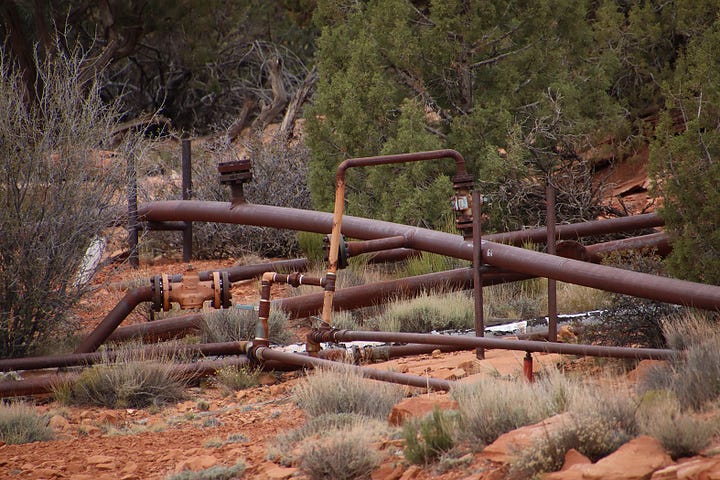 I was in the Lisbon Valley, an area just south of the La Sal Mountains that long has been the target of oil and gas drillers, uranium prospectors, and copper miners. Now lithium prospectors are eyeing it, and there are signs of a possible uranium revival, as well. Some places are just blessed—or perhaps cursed—by geology, and the Lisbon Valley is one of them.
I had turned off of Highway 191 onto Steen Road—named for the uranium magnate Charlie Steen—with no destination in mind. When the main road took a sharp bend, I continued going straight, up and over a ridge from which I was afforded a view of the Lisbon Valley anticline's southwest-facing slope, incised by canyons. In one of the gorges was Steen's Mi Vida Mine, where he had hit pay-dirt in the early 1950s, sparking a huge rush in the region and transforming Moab into a boom town.
But I pulled over before getting there to check out a bunch of oil and gas wells, some that looked ancient, others that seemed to have been drilled in the last couple of decades. That's when I realized what the windsocks, which I'd been seeing for a while, were for.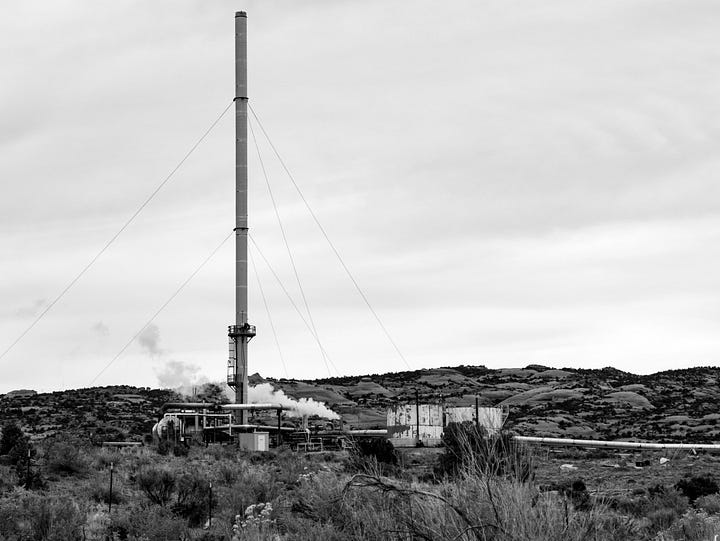 I call the Lisbon Valley a sacrifice zone because seven decades of intense extractive activity have made a mess of the place. The once-thick juniper-piñon forests are indelibly scarred: It appears as if a someone equipped a D-9 bulldozer with one of those robot vacuum cleaner brains and let it rampage across the landscape in a loose grid formation. Faded yellow RADIATION signs dangle from rusty barbed wire here and there, and abandoned mine adits peer darkly out from red-rock cliffs.
Even "reclaimed" sites are problematic. Two tailings depositories at the site of the old Lisbon Valley Mill are discharging uranium into the groundwater and the contaminated plumes are spreading underground due in part to faulty covers. This has been going on for decades and still hasn't been fixed. On a mesa above this mess, the EPA is conducting cleanup work at the old Radon Mine this fall.
A mile or so down the road the scars and detritus of an old copper mine, mill and heap-leaching facility sprawl across some 200 acres. Another company is bringing a much larger open-pit copper mine back to life about eight miles from there, much to the dismay of area ranchers, who worry that it will pollute groundwater.
In spite of all of this, the Lisbon Valley is still a fascinating and beautiful place, sandwiched between Canyonlands National Park and the Dolores River drainage. Some parts are surprisingly rugged. It was on the eastern end of the Valley, a couple miles from the reactivated copper mine, that Rollin Reeves, the surveyor tasked with marking the state line in 1878, encountered "one long range of cañon after cañon, and as general rough and wild a view as we have seen since we left the San Juan River." It was, Reeves noted, a "wretched surface to chain accurately." They did not—chain it accurately, that is—and instead veered slightly to the west for a ten-mile stretch that was so rugged Reeves referred to it as Hades.
As I drove slowly past the gaping pit and towering waste-rock piles of the Lisbon Valley Copper Mine I thought: Hades, indeed.
The Land Desk relies on you, the reader, to keep the words flowing and the Silver Bullet on the road. To receive all the posts posts and support my work, consider becoming a paid subscriber.