Images from the Extreme Social Distance
I went back to the Home-country -- i.e. the Four Corners -- in February and March, and headed out to the Great Sage Plain along the Colorado-Utah border and to the Canyon Country of far-southeastern Utah. Spring is one of my favorite times to take photos in the region because of the way the light frolics with the landscape as clouds race across the moody sky.
Since we are all trying to stay home, and therefore can't get out to these lands right now, I figured I'd share some of the images to provide a little escape from our collective isolation.
I've got many photographs of this particular windmill, which juts up from the Great Sage Plain in southeastern Utah. But never have I seen the air so clear as it was on a March morning after a storm. The formations of Monument Valley are about 60 miles distant, and typically they show up only as smog-obscured silhouettes, if they are visible at all. But now they reveal themselves clearly. That's partially because of the storm, but also because Navajo Generating Station has stopped operating, and stopped spewing pollutants into the air. My aunt Charlotte, who has lived her whole life in the region, says that she noticed the change in air quality following the plant's closure last year. Jonathan P. Thompson photo, March 2020.
March light is the best in the Four Corners, hands down. Here the snow-covered peaks of the Abajos are bathed in early evening alpenglow. Jonathan P. Thompson photo, March 2020.
Wondering where Bernie went? Behind the Slickrock Curtain, that's where. Jonathan P. Thompson photo, March 2020.
When a guy has been social distancing in the extreme, he begins to see things in the rock formations. I call this Earthly Eros. Jonathan P. Thompson, March 2020.
A tower of Hovenweep on a blustery March day.
Yucca and Muley Point.
The potholes of Canyon Country were full this spring following some drenching storms.
Moody March sky over Valley of the Gods and Raplee Anticline in southeastern Utah.
Abajos and storm, from what's left of Bears Ears National Monument.
Morning stormy light frolics brightly on Elk Ridge.
Stone and Shadow.
Ute Mountain bathed in springtime light.
###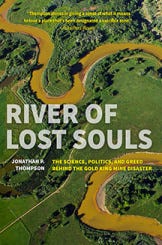 Jonathan P. Thompson is the author of River of Lost Souls: The Science, Politics, and Greed Behind the Gold King Mine Disaster (Torrey House, 2018), and the forthcoming novel, Behind the Slickrock Curtain (Lost Souls Press, 2020).
Images and articles on this site are available for reprint, with permission only, and Thompson is available to do freelance work. Contact him at Jonathan@RiverOfLostSouls.com for details.