Discover more from The Land Desk
Western lands and communities--in context.
Over 2,000 subscribers
The world is a dumpster fire right now. I'm not going to say more about it because I'm at a loss of words when it comes to the atrocities, the suffering, the anguish. Not that there's anything I could say that would matter.
So in today's dispatch, I'm going to give do my best to give y'all a little break from the news and the horror with a 📸 photo-location-identification contest 📷 with prizes🏆 and everything. I've chosen six photographs from my collection, somewhat at random (all made in the Western U.S.). The first person to correctly identify the location of at least two of the photos will receive an item of their choice from the Land Desk/Lost Souls Press merchandise store. And it gets even better: If contestant A correctly identifies photos 1 & 2, for example, photos 3-6 will still remain in play, meaning we could have as many as three winners!
Ah, alas, there is a catch: ⚡️I'll only accept answers in the comment section below!! And only paid subscribers can comment. So … if you wanna play, you're gonna have to pay:
And if you are signed up? Go!!!!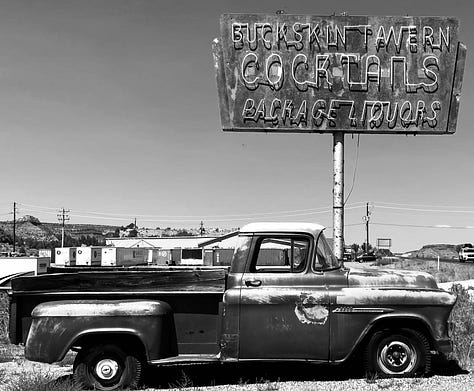 Oh, yeah, and the prizes? They're here. Winners get a choice of one of these tasty items:
Of course, you can save yourself all the work of identifying photos and just buy some merchandise. And be sure to keep checking back, as we're always adding new items.